360° Wrap-Around View System
The 360°wrap-around view system can display the area you want to see
from the location and the angle you want to see it from.
The 360° wrap-around view system is a technology that combines images from multiple cameras installed on a vehicle on a 3D model, visually assisting the driver to monitor the vehicle's perimeter.

Conventional technologies project images from cameras onto a 2D plane, allowing only a top-down bird's eyes view to be displayed, therefore making it difficult to recognize the surrounding vehicles and pedestrians. The 360° wrap-around view system projects images onto a 3D hemispherical surface, which allows the driver to change the field of view freely, enabling them to recognize vehicles and pedestrians by taking a close-up of the spot that they want to see from any desired position and angle.
Overview
Application
Development Platform
Support Software
Overview
Main function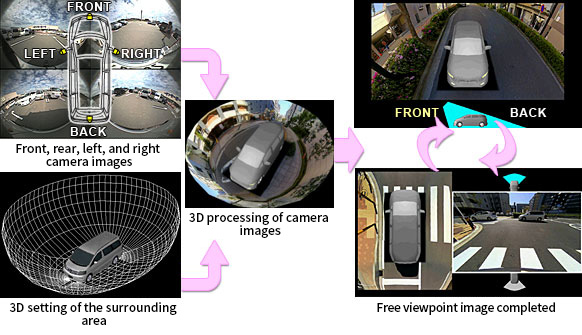 Features
Advanced 3D technology that can apply camera images from all directions to provide binocular vision of the vehicle's surroundings
Users can freely set the direction of projection as needed for any car or situation
In compliance with Surround view system Standard (IEC 63033)
Development Platform
The MB86R10, MB86R20, and SC1810 Series reference kits allow you to evaluate the system easily.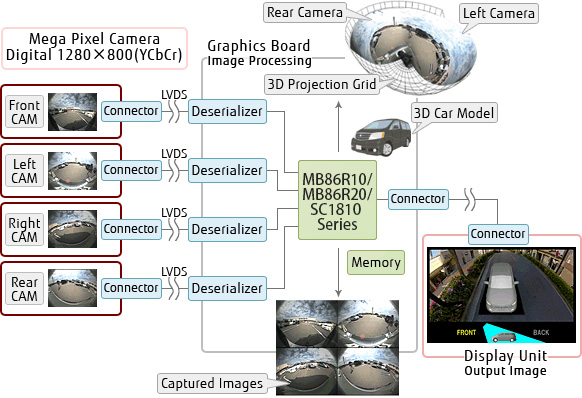 Support Software
By offering an authoring tool that supports the creation of 360° wrap-around videos and middleware for displaying 360° wrap-around images, Socionext supports customers in developing applications for the 360° wrap-around view system.