Radio-wave ranging sensor
Precision to realize smarter world
We are on the brink of entering a world of home automation where home appliances incorporate IoT functionality and sensors are network-connected for interoperation, and where products are able to incorporate services that identify, interpret, and anticipate human behavior. One example might be a camera that automatically activates whenever someone approaches, and sends an email to family members to let them know this has happened.

To achieve digital transformation (DX) that blends the real and digital worlds, Socionext has developed compact and highly accurate radio-wave ranging sensors that feature low energy consumption and excellent cost/performance. Easy-to-use and offering a high level of sensing performance, these sensors are helping to realize the smart society of the future, with their use for object location dramatically broadening the possibilities of smart home IoT devices.
Product Overview
Applications
Product Line-up
Introduction Video
Software & Solutions
Evaluation Kit
Product Overview
Socionext has been designing RF CMOS sensors since 2012, leveraging the radar sensing technologies it has accumulated over the years to develop ultra-compact, high-performance radio-wave ranging sensors. Use of these radio-wave ranging sensors is helping to transform the future of IoT, allowing for package miniaturization through reduced RF interference and minimizing overall system costs for customers.
●Benefits
[Reduced interference allows for smaller package size]
While it is standard practice to house multiple antennas inside the LSI package, radio interference between nearby antennas can hamper data transmission, reducing data throughput and degrading performance. As a result, RF circuit design needs to include measures for reducing interference. In its efforts to reduce package size, Socionext is applying its advanced and highly specialized engineering expertise to mitigate the issues of interference between nearby antennas and reflection noise from the package resin.
[Lower overall system costs for customers]
Incorporating multiple antennas in a single chip can be beneficial for obtaining better azimuth resolution in a small form factor. This can also help to free customers from complicated antenna design challenges.
Meanwhile, the selection of a CMOS process allows for the on-chip implementation of complex signal processing functions and the integration of sophisticated algorithms for detecting signal angle of arrival, distance to target, and movement of target. This minimizes the software development required for downstream signal processing by an MCU and reduces MCU performance requirements. These features of Socionext radio-wave ranging sensors reduce system power consumption, cut material costs significantly, and shorten the development time required to bring customer products to market.
●Features
As each product has a built-in distance measurement circuit, you can use it without any knowledge of signal processing.
A wide range of sensing types are available, including intermittent sensing and burst sensing.
We offer a lineup of products with multiple reception channels that enable detection of positional information.
Product Line-up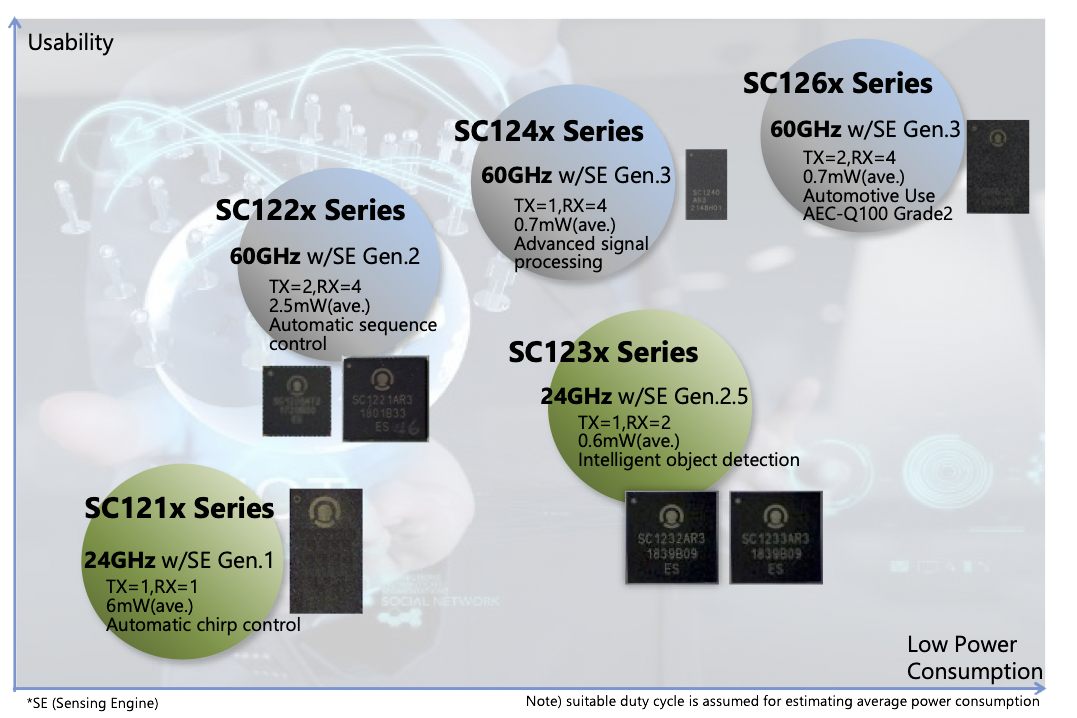 Frequency
24GHz
60GHz
Product
SC1232
SC1233
SC1221
SC1220
SC1240
SC1260
Package/
Antenna Configuration"Image not scaled"
Bandwidth
up to 180MHz
up to 180MHz
up to 6.8GHz
up to 6.8GHz
up to 6.8GHz
up to 6.8GHz
Tx/Rx channel
1-TX / 2-Rx
1-TX / 2-Rx
2-Tx*5 / 4-Rx
2-Tx / 4-Rx
1-Tx / 4-Rx
2-Tx / 4-Rx MIMO
Detectable Dimension
1D
2D
2D
3D
3D
3D
Interface
SPI, I2C
SPI, I2C
SPI
SPI
SPI, I2C
SPI
Average Power consumption
Average: 0.5mW*1
Average: 0.6mW*2
Average: 1mW*3*5
Average: 2.5mW*4
Average: 0.7mW*6
Average: 0.7mW*6
Size
9.0mm x 9.0mm
9.0mm x 9.0mm
9.0mm x 9.0mm
7.0mm x 7.0mm
4.0mm x 7.0mm
6.0mm x 9.0mm
Integrated
signal processing
Distance detection
Motion detection
Digital beam shaper
Distance detection
Motion detection
Angle calc. Info.
FFT
FFT
Angle/Distance
detection
3D Motion detection
Angle/Distance
detection
3D Motion detection
Integration
Antenna, RF, ADC,
Digital F/E & SP, I/O
Antenna, RF, ADC,
Digital F/E & SP, I/O
Antenna, RF, ADC,
Digital F/E, I/O
Antenna, RF, ADC,
Digital F/E, I/O
Antenna, RF, ADC,
Digital F/E & SP, I/O,
ROM for self-boot
Antenna, RF, ADC,
Digital F/E & SP, I/O
[Notes]
*1: 0.1% duty cycle in Motion Detection mode
*2: 0.1% duty cycle in 2D Detection mode
*3: 0.2% duty cycle
*4: 0.5% duty cycle
*5: 2-Tx simultaneously
*6: 0.1% duty cycle in 2D Detection mode
Introduction Video
●Overview
Introducing overview of the Radio-wave ranging sensor.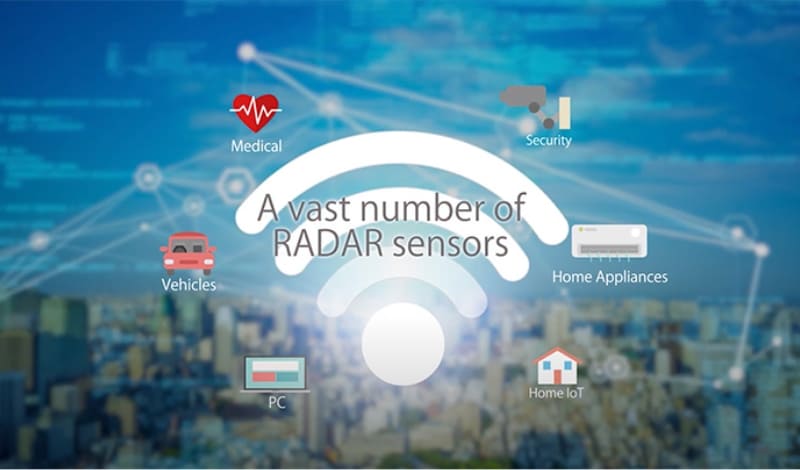 ●Detection Demonstration
Introducing a 2D detection demonstration of the Radio-wave ranging sensor.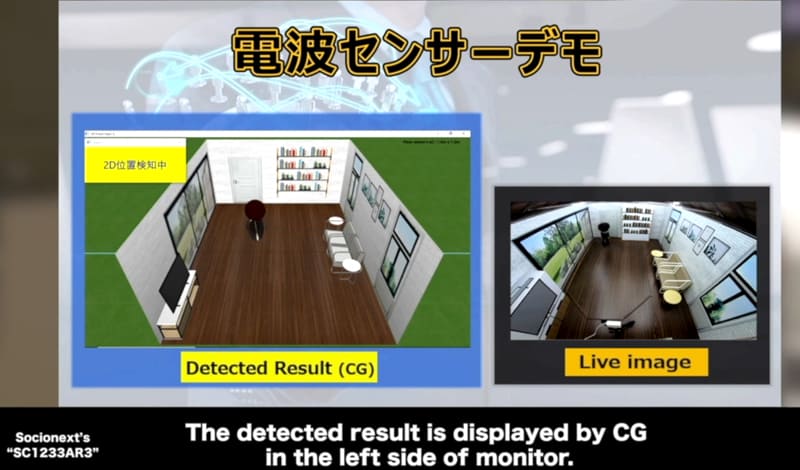 ●Radio-wave ranging Sensor vs PIR Sensor
Introducing a comparison between a Radio-wave ranging Sensor and PIR Sensor.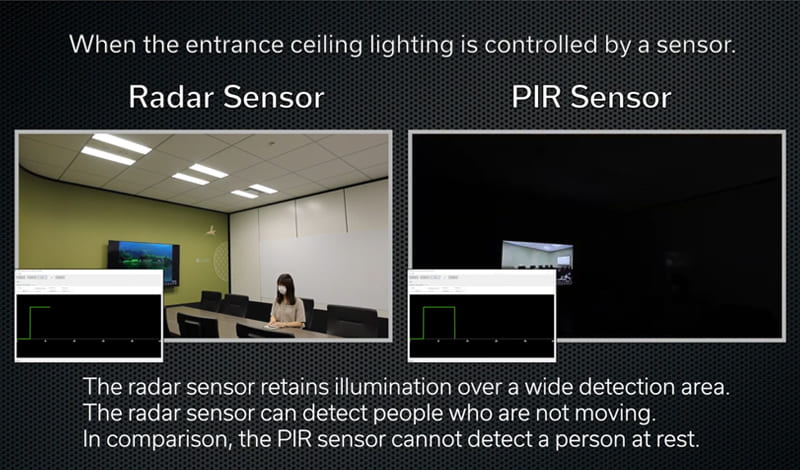 Software & Solutions
Socionext offers software for its radio-wave ranging sensors that can be used to implement a variety of functions to suit different applications.
Examples include hand gesture recognition and 3D location sensing for automatic 360-degree detection of the movements of people in the detection zone. As represented in the figure below, Socionext is actively engaged in the development of software as well as hardware, with an extensive library of functions available for the rapid fulfilment of customer requirements.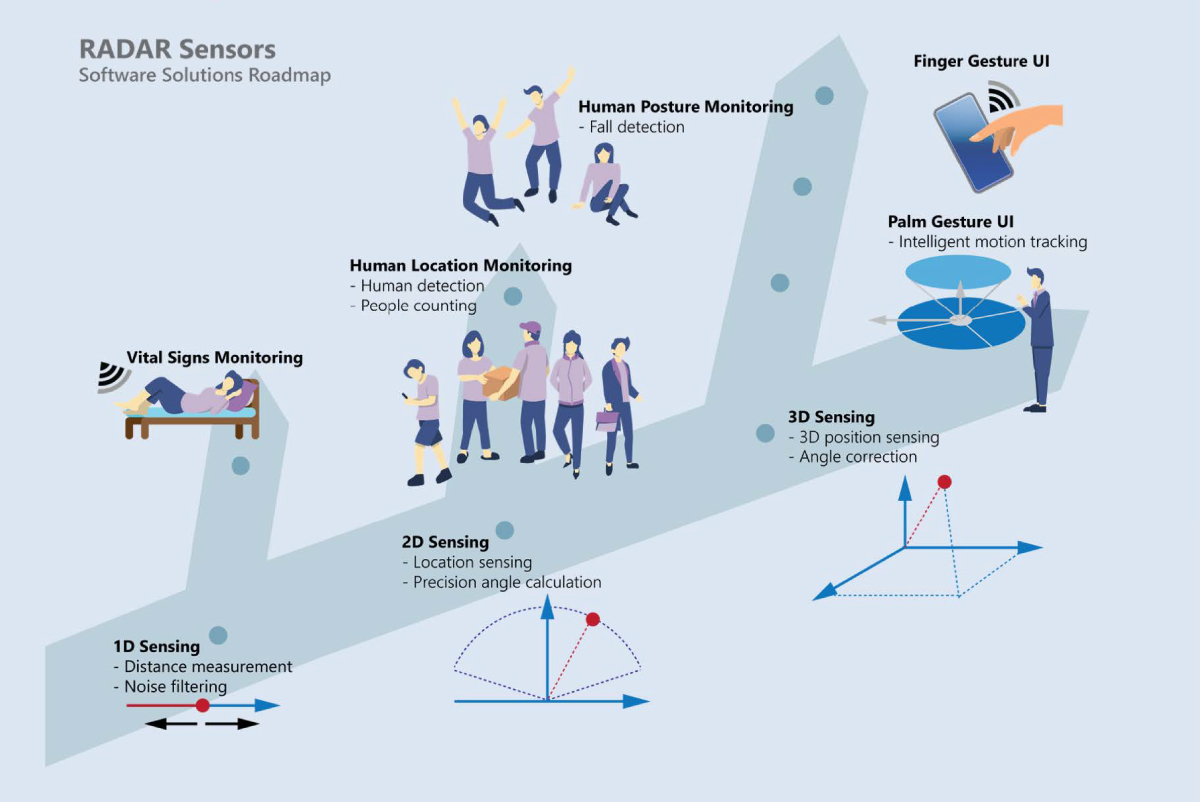 ●3D gesture solution features
Identify waving and other hand gestures
Up to 13 different gestures can be defined
Gesture detection at a range of up to about 50cm
●2D multi-person detection solution features
Identify positions of up to six people
Lateral separation resolution of about 1m
Able to detect people who are not moving
Evaluation Kit
●SC1232/1233AR3-B-001 for 24GHz radio-wave ranging sensors
[Supported sensors]
SC1232 24GHz radio-wave ranging sensor
SC1233 24GHz radio-wave ranging sensor
[Evaluation kit contents]
Evaluation board with USB cable
Sensor library and evaluation software (GUI)
Related documents
Evaluation software (GUI) operation manual
Control API specification
Application notes (parameter settings and sample C source for API)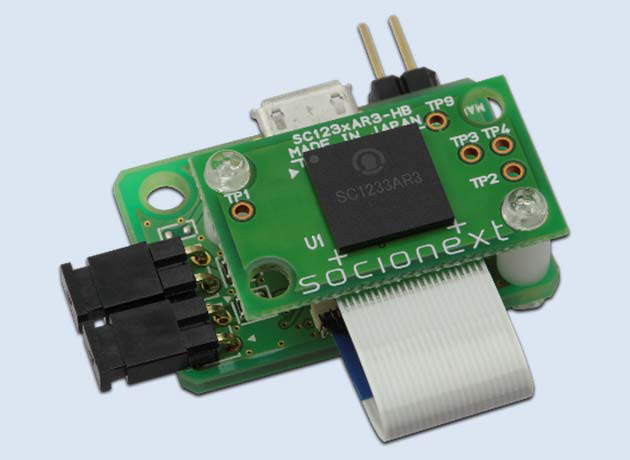 ●SC1220AT2-B-113 / SC1221AR3-B-122 for 60GHz radio-wave ranging sensors
[Supported sensors]
SC1220 60GHz radio-wave ranging sensor
SC1221 60GHz radio-wave ranging sensor
[Evaluation kit contents]
Evaluation board with USB cable
Sensor driver, library, and 2D(SC1221)/3D(SC1220) location sensing evaluation software (GUI)
Evaluation software (GUI) operation manual
Control API specification
Application notes (MATLAB and Sample C source for API)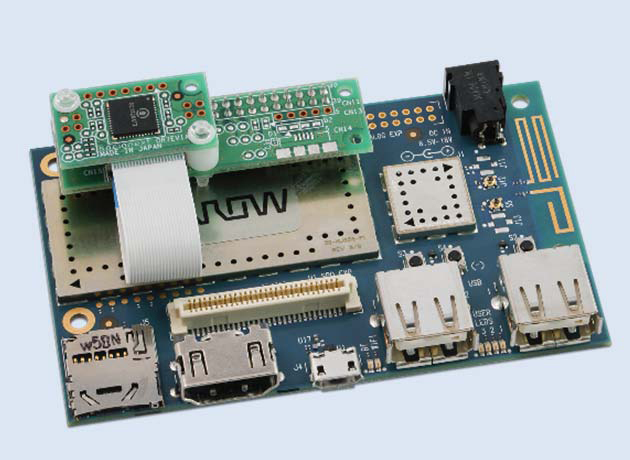 ●SC1240AR3-B-000 for 60GHz radio-wave ranging sensors
[Supported sensors]
SC1240 60GHz radio-wave ranging sensor
[Evaluation kit contents]
Evaluation board with USB cable
Sensor driver, library, and 3D location sensing evaluation software (GUI)
Evaluation software (GUI) operation manual
Control API specification
Application notes (MATLAB and Sample C source for API)