Radio-wave ranging sensor
Precision to realize smarter world
We are on the brink of entering a world of home automation, where the various appliances in a home are equipped with IoT functionality and a range of sensors and are connected to a network, allowing them to interoperate. This new age has brought products providing services identifying, analyzing and anticipating human behavior. For example, there are devices that notice when a person approaches closer than a certain distance to a house, and start up a camera and notify the family by email.

To achieve digital transformation (DX), blending this real world with the digital world, we have developed a highprecision, miniature distance sensor using electromagnetic waves, with low energy consumption and a high costperformance ratio. Its location detection feature, which is easy to use but has high sensing performance, dramatically broadens the possibilities of smart home IoT devices, and so contributes to creating a smart society.
Product Overview
Applications
Product Line-up
Introduction Video
Product Overview
Overview
Socionextʻs radio-wave ranging sensor provides value to customers with the world's top level full CMOS-based semiconductor design technology, single LSI, and package.
Features
As each product has a built-in distance measurement circuit, you can use it without any knowledge of signal processing.
A wide range of sensing types are available, including intermittent sensing and burst sensing.
We offer a lineup of products with multiple reception channels that enable detection of positional information.
Product Line-up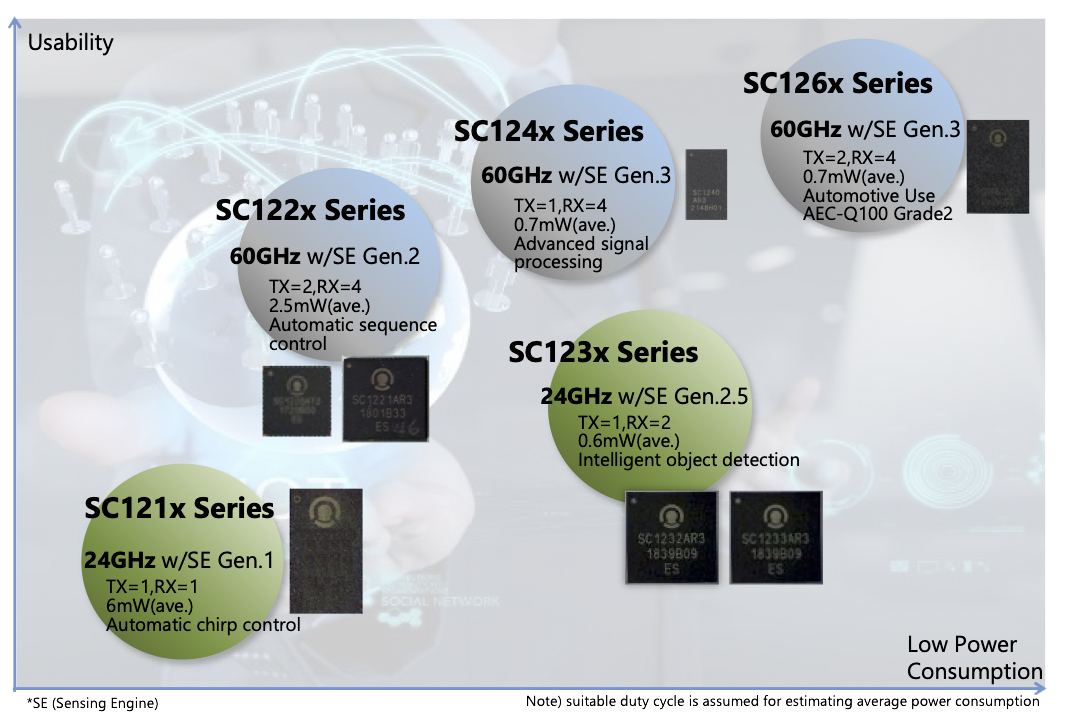 Frequency
24GHz
60GHz
Product
SC1232
SC1233
SC1221
SC1220
SC1240
Package/
Antenna Configuration"Image not scaled"
Bandwidth
up to 180MHz
up to 180MHz
up to 6.8GHz
up to 6.8GHz
up to 6.8GHz
Detectable Dimension
1D
2D
2D
3D
3D
Interface
SPI, I2C
SPI, I2C
SPI
SPI
SPI, I2C
Average Power consumption
Average: 0.5mW*1
Average: 0.6mW*2
Average: 1mW*3*5
Average: 2.5mW*4
Average: 0.7mW*6
Size
9.0mm x 9.0mm
9.0mm x 9.0mm
9.0mm x 9.0mm
7.0mm x 7.0mm
4.0mm x 7.0mm
Integrated
signal processing
Distance detection
Motion detection
Digital beam shaper
Distance detection
Motion detection
Angle calc. Info.
FFT
FFT
Angle/Distance
detection
3D Motion detection
Integration
Antenna, RF, ADC,
Digital F/E & SP, I/O
Antenna, RF, ADC,
Digital F/E & SP, I/O
Antenna, RF, ADC,
Digital F/E, I/O
Antenna, RF, ADC,
Digital F/E, I/O
Antenna, RF, ADC,
Digital F/E & SP, I/O,
ROM for self-boot
[Notes]
*1: 0.1% duty cycle in Motion Detection mode
*2: 0.1% duty cycle in 2D Detection mode
*3: 0.2% duty cycle
*4: 0.5% duty cycle
*5: 2-Tx simultaneously
*6: 0.1% duty cycle in 2D Detection mode